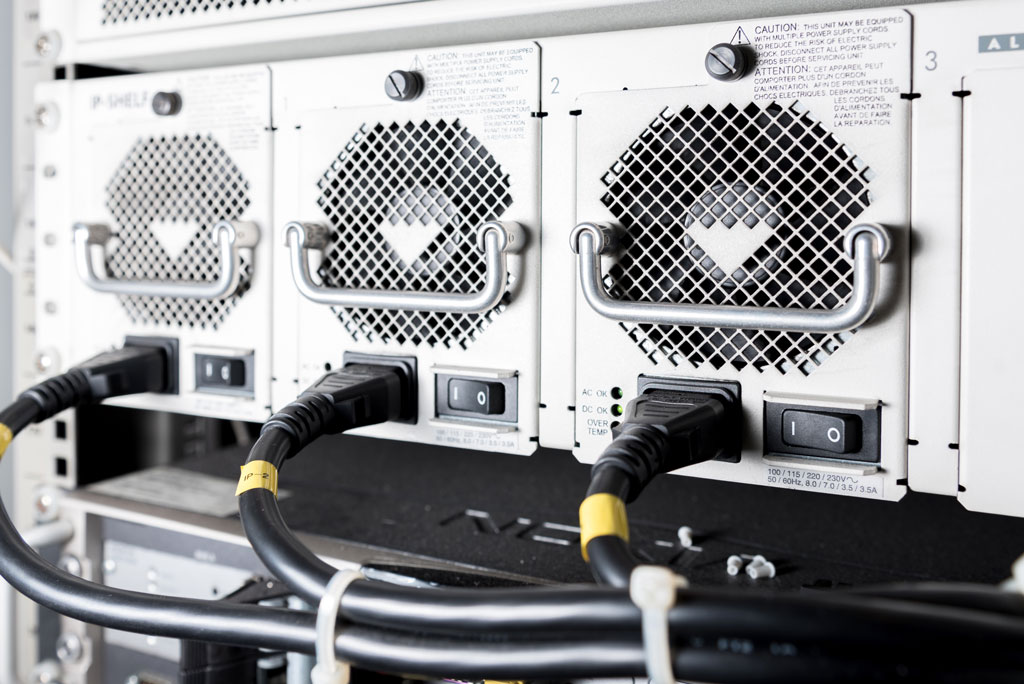 In the second part of this two-part Power Supply Basics series, we're shedding some lighting on the Ferroresonant and Switch Mode power supplies, their functions, advantages, and applications.
If you missed Part 1 of this series, you can find it here.
What is a Ferroresonant Power Supply?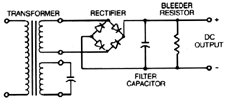 Ferroresonant power supply systems are transformer-based power supplies that use a resonant circuit and nonlinear magnetic properties to provide a stable output voltage over a broad range of input voltages.
Power supplies that include a ferroresonant transformer are specifically designed to maintain a constant voltage over load current variations. The transformer integrates an auxiliary secondary winding, coupled with a parallel capacitive tank, to deliver a resonant circuit at the supply voltage frequency.
Advantages of Ferroresonant Power Supplies
Ferroresonant power supplies provide extremely reliable regulation – even in rugged operating conditions. The power supply's resonant regulators supply a constant output voltage that is precise and steady to withstand various critical application environments.
Key advantages of ferroresonant power supplies are:
Robust, reliable design with reduced components
Self-regulating and self-current-limiting
Regulated output voltage remains constant even at ±40% input voltage
Suitable for powering high crest factor or nonlinear loads
Provides protection from voltage spikes, surges and noise
Offers parallel connection for high power equipment
Applications of Ferroresonant Power Supplies
Ferroresonant power supplies are widely used in applications requiring constant output voltages with isolation from power line disturbances and other instabilities. The application areas for this type of power supply include:
Inverter & UPS Systems
High-Reliability Power Supplies
Line Voltage Stabilizers
Battery Chargers
Gas, cable television, and other industries
What are Switch Mode Power Supplies (SMPS)?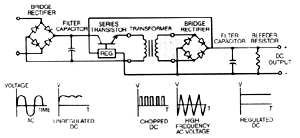 Switch mode power supplies (SMPS) are more complicated than any other power supply type. A SMPS incorporates a rectifier, a series transistor, filter capacitor, regulator, and a transformer. The power supply, with its series transistor and regulator, rectifies the AC voltage to an unregulated DC voltage, which is then chopped to a constant high-frequency voltage, enabling the transformer size to be reduced dramatically.
Advantages of Switch Mode Power Supplies
Excellent Versatility
Switch mode power supplies resolve the challenges of converting standard source voltage into a specified output voltage. The power supplies include a variety of topologies that can be broadly classified into – step up, step down, invert, or even step up and down the input voltage. The diverse topology leverages flexibility in design by fitting into any output voltage.
Easy Customization
Modern switch mode power supply ICs are designed with varying levels of integration, which enables designers to select from a wide range of topologies. This facilitates the engineers with basic ICs for custom projects, easing the design burden for application-specific power supplies. Usually, switch mode power supplies require external components, but the modern ICs can reduce the component count significantly.
If you need assistance in deciding the best power supply for your application, MCI Transformer can help you understand power supply basics and guide you to choose the one that's right for your application. With over 50 years of experience and a proven track record, MCI fully recognizes the design and service needs required by today's customers. Contact us to discuss how we can work together to provide you the best solution for your specific application!